After many weeks of coding furiously into the early hours and long phone calls across the Atlantic, I am happy to announce the first release of SNES Tracker!
SNES Tracker v0.1.1 is now available for immediate download exclusively from the SNES Tracker Patreon and SNES Tracker Gift Shop. Previous versions can be built by anyone, anytime from the source on Github.
What is SNES Tracker?
SNES Tracker is a brand new open-source software tool for making SNES music (SPC), and is compatible with PC, Mac and Linux.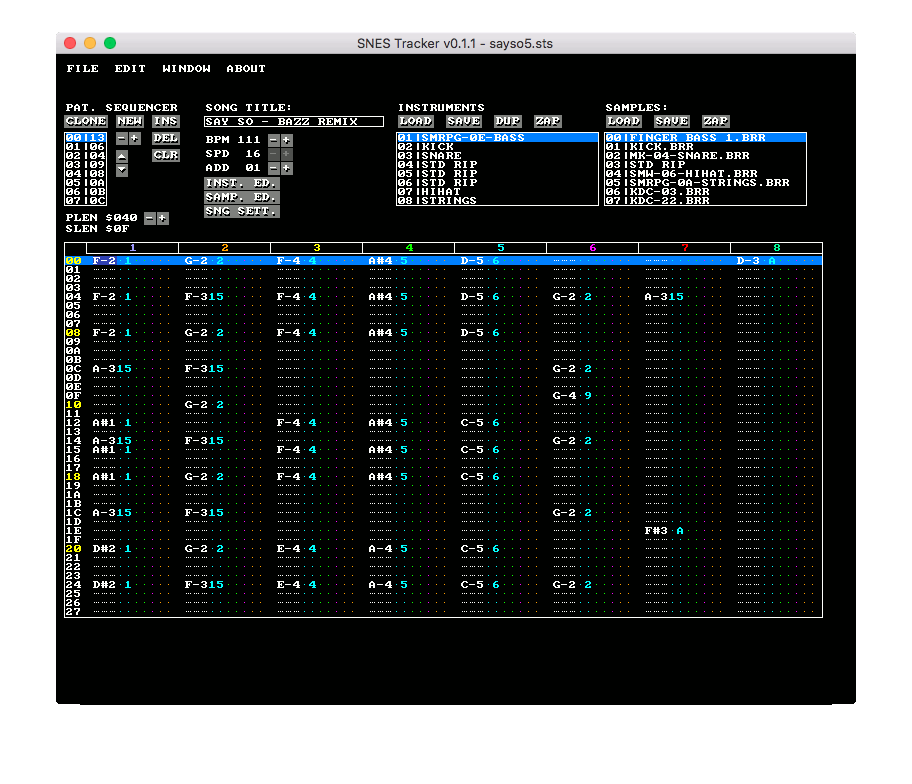 Although the interface might look unassuming, phenomenal results can be achieved – see my new Youtube video or SNES Tracker Soundcloud to experience my first official demo song. This is a big ambitious release and I hope you enjoy it!
Over time, I aim to make SNES Tracker as fun and delightful to use as possible, more powerful and even more feature-rich. Early adopters have been trying out pre-release versions of the program over the last few weeks, and since then many big improvements have been made based in part on their excellent feedback. See the Changelog for details!

If you enjoy SNES Tracker and would like to support me and this project, please visit my Patreon page to discover the awesome exclusive benefits you can enjoy as a SNES Tracker supporter. I'm always thinking of new ways I can bring beneficial rewards to my supporters.
Get Involved!
For even more SNES Tracker goodness:
Thank you to everyone who helped make this program what it is today, including the awesome SNES Tracker community. For help, support, chit-chat and to give feedback on the program, join us on Discord or IRC.

Until next time, stay excellent and keep making beautiful music!
– Bazz