I'm very excited to announce the very first BAZZ T-Shirt is now up for sale! Today I'm conducting a brief interview with the graphic artist who took my vision to the next level, Victor Chui.
Interview
Be sure to click play on the media player just above to listen to the podcast. If you don't see a media player, you can grab the mp3 directly here.
Transcription
Bazz (intro): Welcome to the Bazz1 website, a new place allowing my fans to support me, and providing special content that enlightens everyone to my background as a musician and as a computer technologist. And I'd like to introduce the artist responsible for creating the very first Bazz branded logo, Victor Chui.
Victor: So, I'm a technical artist. I've been in the game and design industry for about 10 years now. I technically started in the design industry and then slowly worked my way up to mobile games, and then eventually VR and console titles.
B: So one of the big questions is how did we meet?
V: We had hit it off. We made a connection online. I was listening to your music; it was a lot of the more 8-bit tunes at the time, and I felt so inspired! I was like, "this is great," and I felt compelled to just like, draw whatever came to mind. And that's what came out of it! That picture. And it was just spontaneous, and I still feel very proud about it.

B: What compelled you to work with me on this logo?
V: Well, and that's thinking back in the days, I was like, I clearly remember we had a connection. I was like, I want to sort of get back to that stage again, because I felt like I was being motivated by that energy back then. I wanted to get back into that same mode.
B: Same here! Describe the inspiration that went into the logo design
V: Oh, haha. When you come to mind, even your name "Bazz," I'm thinking this is someone who has a lot of skills in different areas. You know music, you know how to work with circuitry and like making your own hardware, and there's a lot to process here. And that's like encompassing different fields so I wanted to make something that could sort of envelope all of these ideas.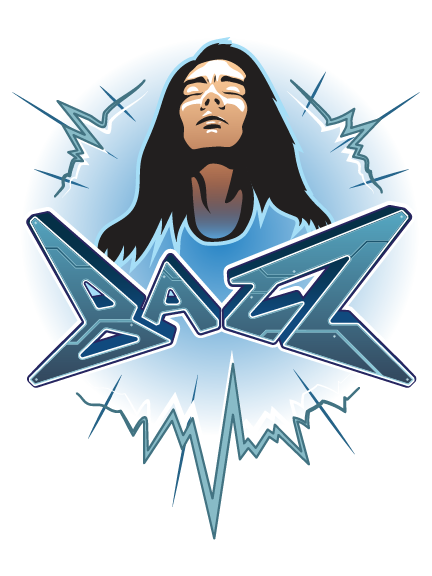 B: What was it like collaborating with me?
V: One of the greatest things about you, is just how passionate you are, about everything that you do! Like every single detail you mentioned was very carefully thought about. And, like, I might not realize this right off the bat, but it's like, every time I would ask you something it's almost like you thought about something, before I even asked you the question! Which is great! That means it eliminates the extra steps in between and I can focus more on doing my craft.
I like that honesty where you're like "OK, this is not working; how about we try something like that." This works for me because I, again, get to go to directly modifying the parts that are not working. And I feel like communication was on point.
You've been able to use my talents to project your vision, your end vision. And it got into a spot where both you and I like the end result, and that's the most important part.
More On Victor Chui
Technical artist by trade, Victor has worked on a number of VR, console and mobile titles such as Luigi's Mansion 3, Star Rebels: Recon Missions and Xmen: Days of Future Past to name a few. He has most recently left Next Level Games after a decade in the industry to pursue his dreams of going indie and developing his own games. You can find his portfolio at www.victorchui.com. When he is not making games or playing them, Victor likes to spend his time honing his photography and illustration skills and publishes some of his works on his instagram.
Something tells me that this will not be the last collaboration between Victor and myself. What might be in store for the future? Tune in regularly for exclusive updates on bazz1.com
Music Featured in the Podcast
All of the music featured in today's podcast was written, tracked, mixed, and mastered by me, Bazz. Here is the song playlist.
Flame – From my demo pack to Victor for his upcoming video game.
Funk City – Also from the demo pack